We are going to look at 3 areas of impact on this role:
The Key Pillars of Sales Operations Effectiveness

Crucial Challenges Sales Operations Must Overcome

Sales Operations Best Practices
Sales leaders expect decision-making data from sales operations. According to a recent CSO Insights study, when sales leaders were asked to name areas of sales operations that need the most improvement over the next 24 months, the top answer was, "deliver key decision-making data to executives."
So, how can Sales Operations deliver key data to executives to help them determine sales strategy and increase productivity? The answer lies in measuring and optimizing sales operations around the key pillars illustrated below.
The Key Pillars of Sales Operations Effectiveness
The key pillars of sales operations are strategy, technology, operations, and performance. Let's drill down into each of these pillars to determine how an effective sales ops team can help streamline sales processes and deliver meaningful data to the organization.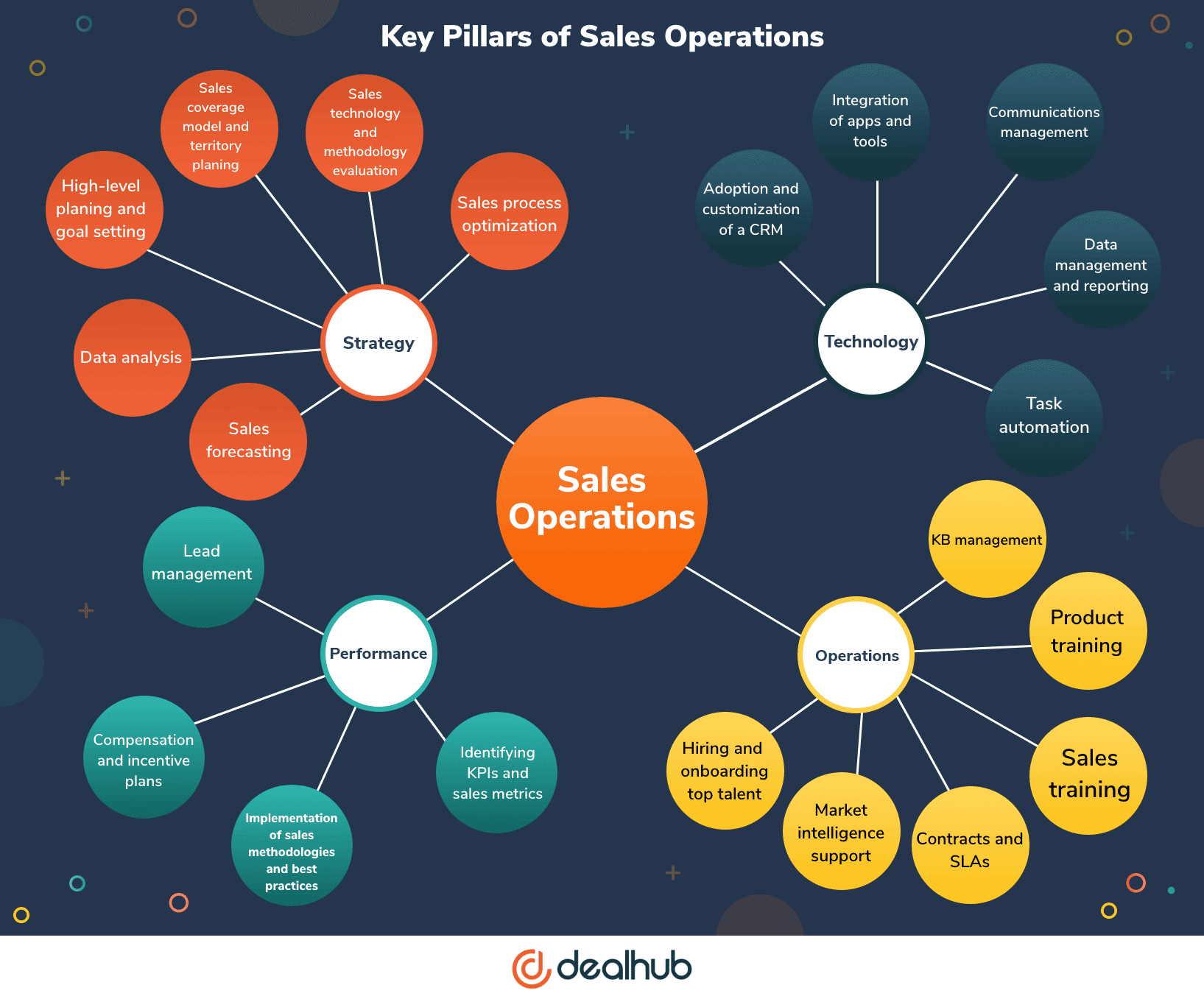 Source: Lucidchart
Pillar #1: Sales Operations Strategy
Sales operations teams serve to define a vision for the sales organization and develop strategies to meet that vision. They do so through:
Optimizing the organization's sales process

Evaluating sales technology and methodologies

Creating a sales coverage model and planning territories accordingly

Setting high-level plans and goals for the sales team

Analyzing data

Forecasting sales
Pillar #2: Sales Operations Technology
With the rise in SaaS applications and sales technology comes the complexity of learning multiple platforms. Learning new technology can be overwhelming and time-consuming for salespeople. The sales ops team can be the link between the sales team and new technology by:
Adopting and customizing a CRM

Integrating applications and tools

Managing communications

Managing and reporting data

Automating sales tasks
Pillar #3: Sales Operations Management
By taking on administrative and operational tasks, the sales operations team helps the sales team focus on selling. Sales ops can take the lead on training, hiring, and knowledge management, allowing the sales team to be fully prepared to sell. Operations tasks of the sales ops team include:
Knowledge Base management

Product training

Sales training

Handling contracts and service level agreements

Supporting market intelligence

Hiring and onboarding top talent
Pillar #4: Sales Operations Performance
Last but certainly not least, by eliminating barriers and streamlining processes for the sales reps, sales ops improves both performance and productivity. Performance priorities include:
Identifying key performance indicators and sales metrics

Implementing sales methodologies and best practices

Creating compensation and incentive plans

Managing leads
Crucial Challenges Sales Operations Must Overcome
As with any department, sales operations presents its own set of challenges. These issues can, of course, vary from organization to organization, but some common challenges created by both internal and external factors include:
Unclear Mission
If the role of the sales operations team isn't understood by the entire organization, the result could be siloed systems, overlapping efforts, wasted time, and general confusion.
Balance
The sales ops team must balance its wide range of responsibilities while managing a complex and diverse sales team.
Poorly-Defined Sales Process
If the sales process is not clearly defined, it will be difficult for the sales ops team to optimize it.
Undefined Reporting Structure
When existing employees move into newly created sales ops manager or director roles, others in the organization may not recognize the new director's authority to move decisions forward.
Skill Set
Members of the sales operations team must enter their roles with the necessary skills and expertise to work with the latest technologies, data, and sales methodologies to be effective in helping the sales team meet their goals.
Scaling
As the company grows, so must the roles of the sales operations team. Continual team adaptation and evolution is paramount for it to function properly.
Collaboration
Members of the sales ops team must be able to communicate effectively with other team members, the sales team, and colleagues across the organization.
Reorganizations
When a sales team is reorganized, the sales ops team must develop new strategies, territories, and compensation plans.
New initiatives
When new initiatives or processes are presented, sales ops teams are not always supported by sales management.
Sales Operations Best Practices
There are a variety of ways sales ops teams can implement best practices to help mitigate these challenges and help sales reps maximize selling time and increase sales productivity. Some of these best practices include:
Define a Mission Statement
Align your sales team's strategy with organizational goals by defining a clear and focused mission statement.
Identify KPIs and Metrics
When the whole team understands what metrics are measured and why, it's easier for them to work together toward the common goals of the organization.
Champion the Right Technology
It is important to first evaluate the team's existing needs and what needs are expected to develop soon, and then define which technologies will improve sales productivity. Solutions that consolidate multiple capabilities, scale with the business, and provide top-notch support are needed to keep sales performance at its peak.
Collaborate with Other Departments
It is vital that processes are put in place to ensure that sales data aligns with each business unit.
Invest in Future Growth
Automation and artificial intelligence (AI) will continue to provide new opportunities to improve sales productivity, shorten sales cycles, and increase revenue. Investing in these technologies will keep sales growing in the future.
Share This Image On Your Site
Unified Technology Essential for Sales Operations Productivity
Effective sales operations teams achieve optimal productivity by following best practices and using unified sales technology throughout the buyer's journey to increase efficiency and effectiveness.
However, separate sales technology such as CRM, CPQ, and sales proposal software won't increase efficiency on their own. First, evaluate your operations and identify where bottlenecks are occurring in your sales workflow. Then use technology to help your team overcome these hurdles by eliminating unnecessary administrative tasks and setting up discounting and approval rules that empower your team to send out quotes and proposals with ease.
Putting together a sales stack that enriches your team's preferred workflow is the most effective way to reduce friction in your sales processes. A unified deal acceleration platform enables sales teams to work with all of their sales technologies from within their CRM, as one workflow, rather than working with separate silo software solutions.
Working from a unified platform is especially helpful for enabling remote sales teams to work with buyers from wherever they are located. Watch this video to learn more about sales enablement for remote sales teams.
Recent research from Nucleus Research states that DealHub reduced the sales training of their customer, Asure Software, by 85% "as sales reps were able to familiarize themselves with DealHub's intuitive workflows quickly."
DealHub's deal acceleration platform is a complete DealStack from lead-to-cash, and operates native within Salesforce, Microsoft Dynamics 365 for Sales and Freshworks CRM, connecting all of the separate sales stages as one workflow; create proposals and contracts, send price quotes and close deals. Substituting separate standalone solutions for a unified cooperative platform inherently increases efficiency and productivity.
Learn which Sales Operations performance and technology trends are helping best-in-class sales teams achieve success. Download our Ultimate Sales Operations Report today.